THURSDAY TESTIMONIALS: Racing Time Champion wrist watch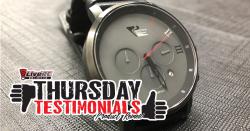 Normally you might expect a new car part, car kit, or R/C accessory to be reviewed here, however, today it's "time" for something different. This is the all-new Racing Time "Champion Watch. The man behind this new brand and stylish watch is avid R/C enthusiast Per-Ola Hard.
Full product review on the link below:
https://www.liverc.com/news/special_features/19251-THURSDAY_TESTIMONIALS%3A_Racing_Time_Champion_wrist_watch/
Final word:
This is a watch designed by someone in the R/C racing industry who shares a passion for racing, it looks stylish both at and away from the racetrack, and it is extremely durable. Rating: 5 of 5!!
We've enjoyed the watch so much that our sister company LiveTime Scoring will be importing them into the United States and will be for sale soon through LiveTimeScoring.com.